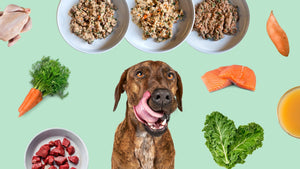 Gently cooked cat & dog food - delivered 🚚
THE PROBLEM
Heavily Processed Pet Food
Processed foods like kibble require artificial additives, fillers & preservatives to keep it shelf stable. The high heat required to make kibble also causes major nutrient loss. 37% of dog and cat owners surveyed said their pet developed a health issue like food allergies, gas/bloating, sensitive tummy, or weight gain & obesity from low-quality ingredients in processed pet food. Something has to change.
A HEALTHY SOLUTION
Real Food for Pets
Research shows that even adding a handful of fresh leafy greens to a pet's diet can improve their health. Just like with humans, variety, freshness and a balanced nutritional profile helps our pets stay healthy and happy. Fresh food is cooked at low temperature with fresh ingredients, just like human meals, & retains the nutrition & quality of whole ingredients.
MINIMALLY PROCESSED
Clean, Whole Ingredients
Kafka's natural pet food recipes are formulated with carefully selected superfoods and whole ingredients like kale, carrots, sweet potatoes, bone broth, and Omega-3 fish oil to pack a punch of immune-boosting nutrition for cats & dogs
View Meal Plans
BALANCED & COMPLETE
Vet Approved Meals
Reviewed by Board Certified Vet Nutritionists for AAFCO standards. At Kafka's we create homecooked style fresh pet food  to save you the hassle of sourcing vet-approved recipes & supplements and homecooking your pet's food. 
Get Started
PROUDLY LOCAL
Made in Canada
Kafka's fresh pet meals are made in a human-grade kitchen facility in Vancouver BC, Canada. We do all we can to reduce waste in our procurement process and source from local farms and businesses. We are proud to be a 100% Canadian family-owned, Vancouver fresh pet food delivery brand.
PICKY PET? NO PROBLEM
Pets Love Kafka's...Even Picky Eaters!
Many a picky eater has jumped for joy at their Kafka's meal delivery! Made with locally-sourced meat, fish & vegetables, and the highest-quality supplements, the taste profile of our fresh pet food is beyond gourmet! NomNom 😋
#NoHassle
Easy to Feed Dog Food
It's just as easy to feed high-quality fresh dog food as it is to feed kibble. Kafka's meals come in resealable, ready-to-serve pouches. Simply thaw, scoop & serve! Store leftovers in the fridge for quick access at next mealtime. 
Discover Fresh Dog Food
How It Works
Step 1 - Calculate custom meal plan
Go through our feeding calculator to figure out how many calories and grams of fresh food your pet needs. Age, weight, body condition are taken into account to come up with feeding amounts specific to your unique furr-friend
Step 2- Choose a delivery method
Lie back and wait for us to deliver your pet's meals (or choose pickup if you wish). Deliveries are Free on orders over $120 (in BC) & Pickup is from our kitchen in Vancouver.
Step 3 - Enjoy the #FreshFed benefits
Transition your pet to wholesome fresh food and enjoy the long term benefits of better overall health as well as more immediate benefits - increased vitality, balanced weight, glossy coat, better breath, and even better poops!
Calculate Meal Plan
Also serving finicky felines!
Nutritionally Complete Cat Food
Avoid death glares & feed fresh food to your picky cat. Species-appropriate healthy cat meals without all the byproducts, fillers, artificial additives & preservatives. She will thank you! 
Discover Fresh Cat Food